Hello, fellow chemistry and science enthusiasts and students!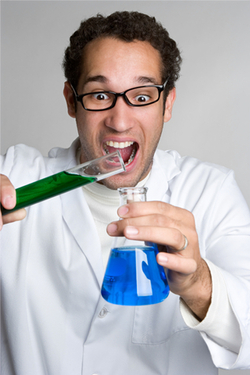 I started mychemset.com to help you have more fun (and learn more) by doing experiments with your chemistry set in school or at home.
If you want to buy your first chemistry set, get a new chemistry set, or expand the chemistry set you have, you've come to the right place. Our goal is to provide you with safe, easy-to-use lab equipment, supplies, and chemistry sets to help you explore the fascinating world of chemistry in your own personal, private home laboratory.
Another misson of www.mychemset.com is to help students taking high school chemistry better understand the course material, get better grades on chemistry tests, eliminate boredom, and make chemistry interesting and even exciting. Our Chemical Concepts page covers basic ideas taught in high school chemistry, presenting them in a clearer, more understandable way than your textbook or class web site.
You can also chat with your fellow amateur scientists in our Chemist's Corner, read free articles and experiments you can perform with your chemistry set in our Chemist's Library, subscribe to our free Experiment of the Month online, or browse the best chemistry books in our Chemist's Bookstore.
Let me know what you like about mychemset.com and also how we can make it better. Just click here to email me.
Bob Bly, founder, mychemset.com