Understanding Atoms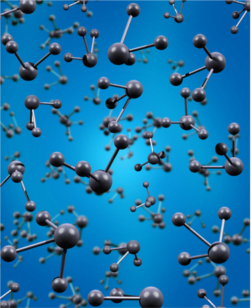 Atoms are defined as being the smallest component of an element that still retains the element's properties. Each atom is made up of a central nucleus with protons (positively charged), neutrons (neutral) and electrons (negatively charged) rotating around it. The electrons rotate within specific areas or layers, known as shells.
There are a certain number of shells in each atom and they are labeled either with numbers, 1-7, or letters, K-Q. The atomic number refers to how many protons exist in the nucleus of the atom and determines the element, as well as how many electrons are in the shells. For each proton, there can be one electron. For example, a hydrogen atom has one proton and one electron. Each shell can hold a limited number of electrons, shell 1 holds up to 2, shell 2 holds up to 6, etc.
The outer shell is called the valence. When it has an electron in it, this electron may be broken away from the atom by an outside force. It then becomes a free electron which may join another atom.
Within an atom are also neutrons which serve as a binding agent for the nucleus. These may decay into a proton and a neutron. The atomic weight of an atom, which determines radioactivity or stability of the nucleus, is approximately equal to the total number of protons and neutrons, with some weight added for the electrons.
When the atom has all of its shells filled with electrons, it will be extremely stable. The atoms are constantly trying to balance things out, so if there is space for more electrons in the valence shell, the atom will try to grab more from other atoms. This makes it very easy for these types of atoms to be mixed together to form new compounds.
There are still ongoing studies to try and understand everything that goes on in an atom. Despite being the smallest particle of matter, it is infinitely complex.